Tropical Heritage Garden Diary:
November 2017: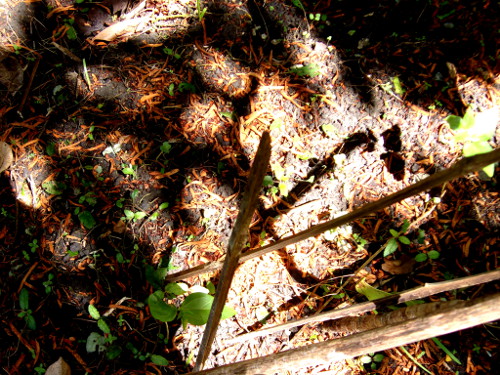 November 01:
A Step Towards a More Tidy Garden


Recently planted Seedlings Starting to Sprout

November 02:
First Rain then Sun


Garden Debris becomes Animal Fodder

...and I slip and hurt my shoulder while gathering it
November 03:
Rain and Sun and Rain Again

Area around new Pig Pens is a Muddy Mess



No.Three gets upset by Neighbour's Tree Felling -but calms down when given a Treat

November 04:
Experiment with Mud Balls


Olld flower seeds mixed with compost, sawdust and mud into balls and thrown onto garden patches

Turmeric plants dug up and replanted


After an argument with the Architect the Foreman gets the Pig Pen area cleaned up





This is where I got stuck in the mud up to my right knee -and had to be pulled out

November 05:
The Clean-up Continues







But not Outside!

... And in the House, Bat Remains on the Sofa Again


November 06:
Bebe and Alex repair the Lendahan for drying Copra


Three Coconut Trees are Trimmed and Harvested




Rain tests New Drainage System around Pig Pens


Worsening the mess around the wall construction site

...but, luckily, Draining Quickly

November 07:
Rain All Day



...and Rat Remains under the Dining Table for Lunch


November 08:
Bebe and Alex continue work om the lendahan



Wondering what to do with it all Now.......


Three Retrieved Banana Trees Replanted


The Work looks Reasonable but has created quite a Nasty Mess


...but life goes on -with Hens' new Chicks


Ihid's old pen has to be partly demolished so he can be moved to new Pen



Ihid is terribly stressed -but recovers later
Bebe and Alex have cleared up the woodpile in the Lendahan area -but some firewood remains

November 09:

Newly Hatched Ducklings take a Swim


Working on the Copra


More Bat Wings on the sofa

The Workers Clean up a Bit before going Home


digging up
unwanted cement remains

Some workers clean-up more carefully than others

Getting ready to Leave

Leaving the rest
to us
...and A dead rat for the evening

November 10:
Rain and sun


Sprouting Banana Patches



....but still Clearing Up the mess left Behind by Builders


Plant bed or footpath?


The last bits of Rubbish ready for Collection


Which is Collected -except for the sludge left from the Bottom of the Cement Water Barrel

Chicks and Ducklings enjoying the Sun


Even the cat is celebrating....


The Copra is Finished too


50 kg. of Copra

November 11:
Cleaning the Fish pond again -after the workers have finally left


....and a new clutch of Ducklings


November 13:
Pinkie Visits No.Three




....and Then taken Home again

Banana Harvested




Trunk used as Compost, Fodder and Leaves saved for Nesting Material later

Rain and Sun Again.....


Flooding around the Wall Area Subsides fairly quickly

November 14:
...but more Rain Today


November 15:
Fatima Plays with Ihid


....and it Rains Again


November 18:
Replanting Devastated Areas




Reclaiming the Old Pig Pen Area

November 19:
Cement Sludge from Builders spread out on Garden Path



Seed Table is cleaned up -after being Attacked by Cats and Chickens



Cacao Tree starting to Fruit again

...and Rain Again, Again

Flooding in the Pig Pen and Wall areas


November 20:
Rain and Sun



Experimenting with Seeded Mud Balls Again

Mix seeds with compost and sawdust and roll into mud balls




Throw onto garden patches and cover with thin layer of sawdust





Further attempts to Rehabilitate areas damaged by Builders



November 21:
Northern Hedge trimmed and fed to Animals


Rain in the Night causes flooding where Builders have worked


...but still a nice Sunset
November 22:
Flooding still Subsides quickly


November 23:
Still Wondering what to do with it all.....


Penny Harvests Bananas

Leaves provide Animals with Food and Playthings

Hedge Trimmed and Cuttings Planted along the Wall

November 25:
Hedge Area by Wall Trimmed and Tidied


Junk Wood from Pile used to define Paths




There's a lot to sort out still



November 26:
More Coconut Trees Harvested and Trimmed





Border Patch Sown with Assorted Seeds


A Short Shower Interrupts


Coconut debris is being Efficiently Processed





November 27:
This makes sense -but this doesn't
!

Some Debris
Left Behind from Yesterday


A few more Anti-Duck Fences -including a repatriated garden plot

Making a bit more Sense with the paths

November 28:
Cleaning Up under the House



Seeds and Firewood drying in the sun


November 30:
Reclaiming the area around the Wall
Digging Rain Gardens to Improve the Drainage


Moving Cement from beds to Paths and Improving Both


A Pole for Orchids


.....and Stumps for Plants


Using a Junk Wood Pile to Mark Borders




The Ducklings (and Chicks) are doing well


The Area around the New Pig Pens is starting to Look Better

---
2017
January
February
March
April
May
June
July
August
September
October

---
Trevor Batten
<trevor at tebatt dot net>
Baclayon 2017
home
---