Tropical Heritage Garden Diary:
January 2017: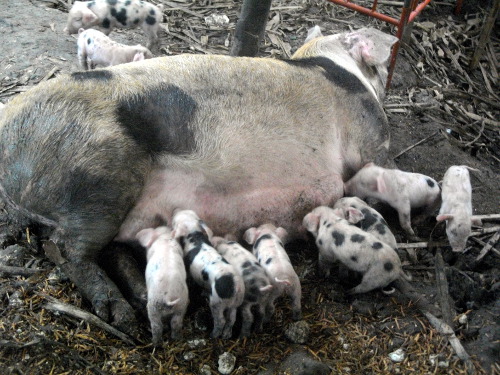 January 01:
A wet start to the New Year


....but improves later



Sow and newly born piglets doing well

Older Piglets are fine too

January 03:
Only 10 now -One was suffocated by sow laying on her, possibly while sleeping


January 04:
One set of piglets take refuge in the creep space -the others only use it as a toilet....


January 05:
Eat, Sleep, Play




January 06:
One Week Old This Evening


Still coming along nicely...


January 07:
Now only 9 left


January 08:
Two Weeks Old This Evening


...and these all seem to have survived the night without a baby-sitter

January 11:
Drainage channels filled with stones to keep them from silting up


Mass Escape by Piglets
January 12:
More repairs -After another breakout


Now Only Eight in the other Litter


Poor Pinkie -Still under the House due to Rain

Goat/Pig Pen still a quagmire

January 13:
Two Weeks Old Tonight -but another one didn't make it

Another Breakout dealt with effectively!


Three Native Coffee Seedlings Planted in Garden


Native Cacao Beans Planted in Pot

Feared Banyan tree Cuttings Planted (for Bonsai?)

January 16:
Beware of Papaya Trees falling in the Rain




Flooding in the Goat/Pig pen


Behind the pen too


...but the other pens have remained dry

January 17:
Drainage improved and anti-slip layer of stones added



Water behind pen has dissipated


....but not inside the pen

January 19:
Flooded again after night rains -but draining quickly

Although the Pen remains the same

Purple Gabi planted


The Rain-forest Thrives -but is it productive?

Various Beans and Seeds from Garden

January 21:
Unwanted Tree fed to Goats


Sunny again


-but not for long


January 22:
The New Piglets explore the garden -but run home when mummy calls


January 23:
Cacao beans sprouting -but Pomelo not yet



Piglets share a Banana Leaf with their mother

Parts of fallen Papaya Tree retrieved and used


Sprouting Sinkemas replanted

Assorted Beans and Vines planted

January 28:
Some well needed rain


Celebrating Sta. Nino at the neighbour's

January 30:
Building a temporary "Recovery" pen for Piglets after Castration



Recently planted Bean and Vines starting to sprout

Garden Patch tidied up and planted with various Seeds

January 31:
Rain in the Night -Pig pen flooded and fallen Coconut Branches, but plants are thriving....



Piglet Castration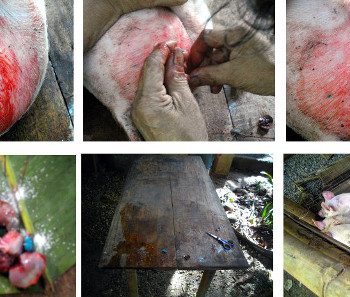 Cleaning Up -getting back to Normal


Mother and Daughter Alone
Now

---
2016
December

2017
February


---
Trevor Batten
<trevor at tebatt dot net>
Baclayon 2017
home
---