January 06:
Cooking Gas Delivered

Drinking Water Arrives


Milk Flows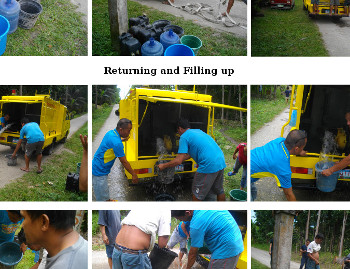 and Emergency Water Supply for us
... but Neighbour's cows seem happy

January 07:
Goat family busy


...but find the baby!

January 08:

Christmas Ducks still living together happily
in shared family

Some Ducks Fattened and Free -but still hanging around

Older seedlings growing in extended garden patch

with younger seedlings in more recently sown patch

plus a Patch for Wild Growth

with Dry Winged Bean Pods on trees in the Wild Patch

Getting Ready to reseed themselves
and Chillies growing in Northern Stump Patch

January 09:
Another night time visitor


January 11:
More night time visitors


While the local residents wonder about the fuss....

January 12:
After finishing the Drainage Channels on Main vegetable patches




Lots of work still to be done....




While Ducks enjoy the Sun

January 13:
First Heavy Rain this Year!

Ducks and Cat enjoy the Weather

the Chickens and Pigs rather less


January 14:
After the Rain -the fight against the Quagmire

Pomelo , Mandarin and Cashew seeds planted in pots

January 22:
Friendly Hernia Patients


An active garden spider





A sleepy Frog


...with sleepy ducks

but Christmas ducklings doing fine

...and new ducklings born today

Some Beans, Some Chilli


Seeds, sown after rain, begin to sprout

and Pandan Palm fruits planted in pots

January 26:
Christmas ducklings now free!



Eggplant seedlings transplanted -after rain


Some seeds before Planting

Squash, Beans, Ampalya, Luffa Radish and Okra
...in various garden patches


and a few more Beans are Collected

While Penny and Terri repair the Pig Pen again...

January 27:
Rain in the Night -the Quagmire returns


Paper bag protecting Sorghum seeds from chickens