Tropical Heritage Garden Diary:
December 2015: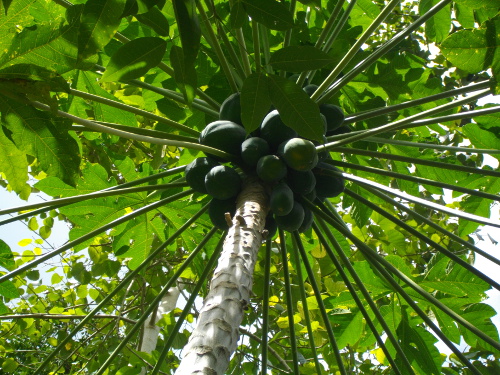 December 01:
Ducks are maturing nicely


and a batch of chickens are nearly ready for releasing


with more in reserve


While hens sit

...and Roosters roam

The hernia patients seem happy

The piglets too....

and fish swim in the pond

Work continues on improving the drainage and conservation of water
December 02:
Fence chewed by piglets and attempts to stop it by reinforcements



Hopefully, Piglets distracted by reinforcements and extra forage


Extra drainage and light for Herb Garden area


...and a Tuko falls from tree to surprise ducks


December 03:
Waiting, Birth, Feeding and Plucking....



Dressing Duck for Dinner


Piglets Bogged down in Mud

Can Coconut Branches help?

Unruly Patch Trimmed

Piglets enjoying their new Foraging material

Preparing for the next re-planting



.......and work continues on the drainage project



After the Rain comes the Sun....

December 04:
Anti-mud system seems to be working -but reinforcement needed


Free, Open Pollinated, vegetable seeds from the Bohol Provincial Government

December 05:
The Battle against the Quagmire continues...


Another attempt to repair the Piglets' pen

Some living succulents -and a possibly dead Stevia

A start towards organizing the seed collection


December 07:
Third drainage channel now completed


...but the Quagmire continues to fight back!


December 09:
Under the house -a small fattening pen for young ducklings






Constructed with string, wire mesh and bamboo
December 10:
Another Night Time Visitor


Speckled Hen takes her chicks on Safari under the house


Penny and Terry build new protective pen for ducklings expected to hatch soon


New Hanging Feeder saves wasted Chick Feed


Chicks cannot scratch food out onto floor so easily


December 11:
Drainage channel filled with organic material to slow Flow and increase Absorption


More Drainage Channels
around garden plots

Northern Patch under Renovation


December 14:
Improvements to Compost Patches





Some Patches still need treatment

Local Government Seeds sorted and ready for planting

Nine types including beans, vegetables and edible gourds
December 16:
Native Patola (Luffa)


Collecting Rice Hull from the local Rice mill



Refuse collected from Rice Mill

The Piglets are given fresh bedding material


December 18:
Penny and Terri chopping coconut for animal feed


Northern Patch Renovated





Northern Stump Patch enlarged





Western Stump patch under improvement





Four (southern) Renovated Patches





with One still to go





....and Five more waiting



Already a Few things Growing on newly extended patch



December 19:
Tropical Depression "Onyok" brings more than 15 hours of rain








Bad Drainage

Too Fast -causes erosion
Good Drainage

Vegetation helps ground to absorb water
Some Patches seeded directly after rain stops

Some patches have rice husks applied as Mulch

partly as a decoy -distracting chickens from newly sown patches
December 20:
Singkamas: From Garden to Table


December 24:
Netting removed from around patches in Eastern garden


Emergency repair to Piglet's fence to prevent them from eating their way out

December 25:
Born on Christmas Day!



Born, Abandoned, Escaped, Bullied and Rescued -all in one day....

December 29:
A Tale of Two Mothers

Active Mother and Passive Mother

Active Mother insists on escaping -Passive mother takes all

Ducklings prefer Passive Mother
December 30:
The Two Mothers seem to have reached a compromise



Fattening Pen seems to be working

Depressed Rooster appears happy

Other Roosters and Ducks too

Caged and Free


Terri continues improving drainage ditches around garden patches


Earlier seeded patch growing nicely

December 31:
....and Peaceful co-existence among ducks and ducklings


---
---
Trevor Batten
<trevor at tebatt dot net>
Baclayon 2015
home
---