Tropical Heritage Garden Diary:
June 2015: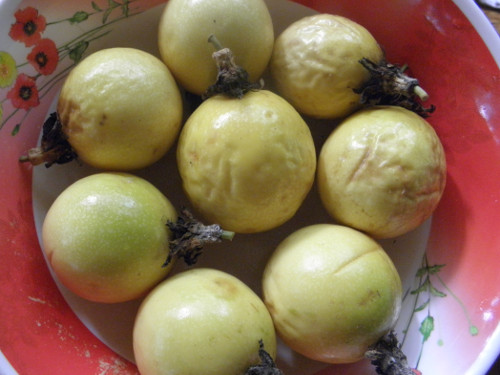 June 01:
After dinner Nose-Ball



Newly planted eggplants and seedlings in stump patch

...and Life goes on


June 02:
Seeds and Seedlings


One can eat the passion fruit -and plant it too!

A few drops of welcome rain

1.45 PM
But not enough!

2.00 PM and already stopped
Eggplants eaten by neigbour's cow.....

June 03:
An invasion of kittens -but who's the father?


June 04:
Miss Piggy takes a bath


Rain in the night



Will there be more soon ?
Newly renovated chicken net patches re-sown with chicken seed, etc...

Tree Garden patches hopefully recovering from drought

June 07:
More rain in the Night!


Is the rainy season beginning at last?
An immediate reaction from some plants


Nursery Plants doing well

Cowpeas growing in Coconut patch

Cowpeas and Beans growing in stump patch

Mother and surviving son

Both enjoying a rest between meals

Some Ducklings survive

Others have been less lucky
June 10:
Serious daytime rain -at last!


1.00 PM

1.30 PM
June 11:
Extreme anti-chicken protection


Newly planted chicken feeds
Will these be safe?
Planted with large seeds

(Okra, Maize, Beans, etc..)
June 12:
More rain today!


12.45 PM

June 14:
Night-time kitchen visitor


Intermittent Showers



With new shoots after the rain
...

June 16:
More new shoots



Butlig getting bigger too.....


June 17:
Young Citrus tree in bloom for first time!


Probably native lime (Calamansi)
June 19:
Rain again!



Floods outside -leaks inside

and drainage is important

with garden going green again....
plus a lunchtime visitor

June 20:
Two more night visitors

June 21:
More night-time visitors -fed to the tilapia
(photos Fatima Lasay-Batten)


...and Butlig tries exploring the garden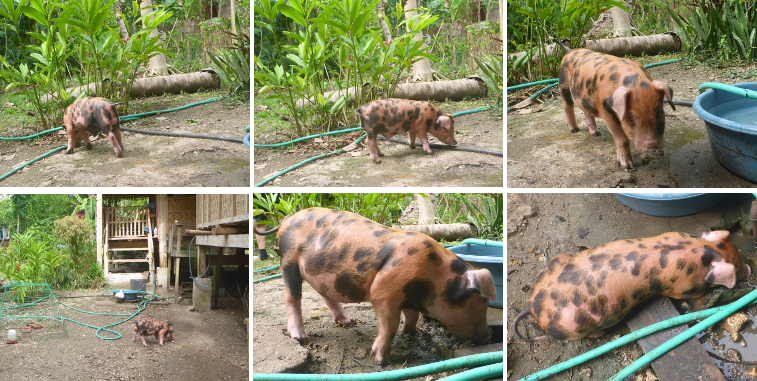 June 24:
Heavy rain today



Improved drainage around pig-pen and dirty kitchen

Thanks to Penny and Terri

....while Miss Piggy enjoys the rain

June 28:
Butlig enjoying lunch

-been a bit under the weather recently -but now improving
New Neighbours



Born today -and given refuge in the "farrowing area"
---
---
Trevor Batten
<trevor at tebatt dot net>
Baclayon 2015
home
---