Tropical Heritage Garden Diary:
February 2015: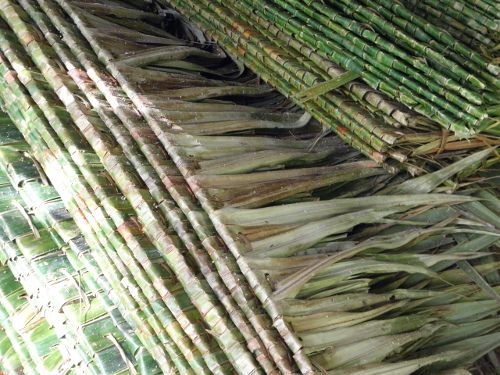 02 February:
Nipa and roof waiting for repairs

Repairing the Roof
-December 2013
03 February:
Waiting to grow

Weeded and seeded -and possibly already eaten by chickens
V.1A V.1B V.1C
Waiting to be planted
Forage Plants (recieved Friday 30 Jan) from local government office)

Forage Plants planted earlier

Tricanthera -big leaves Desmodium rensonii
Indigofera -small leaves
Stylo -died
04 February:
Also waiting to grow
Newly planted herb seeds and previously planted seedlings



Seedlings planted 18 January 2015



05 February:
Finally -from roofing material to compost!
Forage Trees planted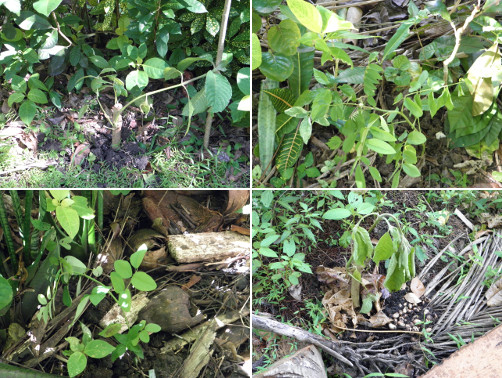 Renovation after devastation by chickens



Are there any seeds left to grow?
While Miss Piggy and friend enjoy the sun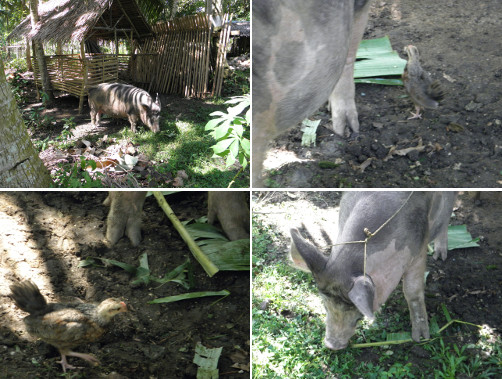 07 February:
Older and Younger Brothers



Hatched 27 January Hatched today!


Young Vines growing in old Ube Patch


Planted 20 January


Roof Repairs continue


10 February:
Shy mother hen still going



Shy Herbs?

Seeds planted 4 January
Ducks (of all ages) Everywhere.....


14 February:
Spiders hiding under house eves



18 February:
New Seeds arrived by post


Compost crops, greens and grains
21 February:
Our First Upo!



Experimental Compost Plantings
Mixture of Alfalfa, Summer and Decorative mixes -plus birdseed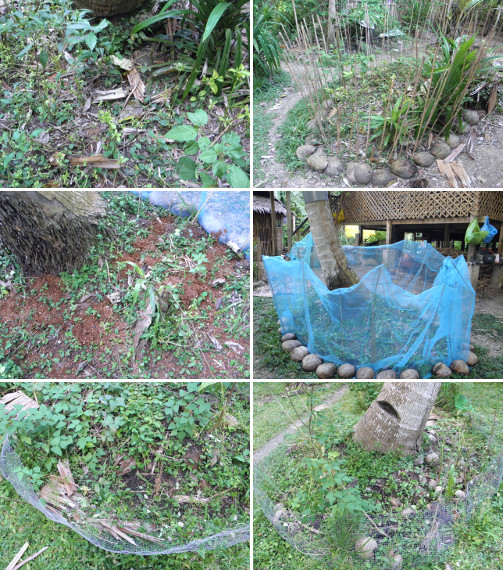 -Various types of anti-chicken and duck protection


Nearly Finished


Finished -Except for the cleaning up!

COST NIPA REPAIRS 2015 -PERIOD FEBRUARY 5-21(15 DAYS)

NIPA (3,000 PIECES) = 9,000

UWAY (12 BUNDLES) = 1,800


LABOUR


A & B -> 650 X 12 DAYS = 7,800
A & C -> 600 X 3 DAYS = 1,800


** TOTAL = PHP 20,400 **


Now Nipa, nipa, everywhere......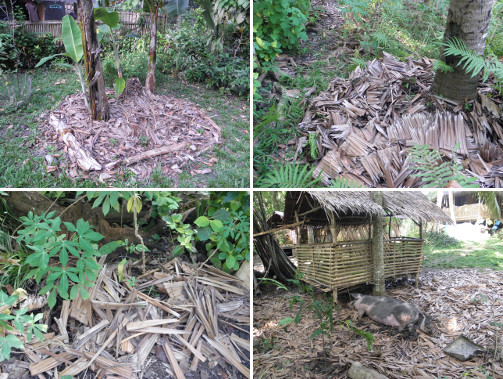 ....including the two new compost heaps

23 February:
More Shy Chicks!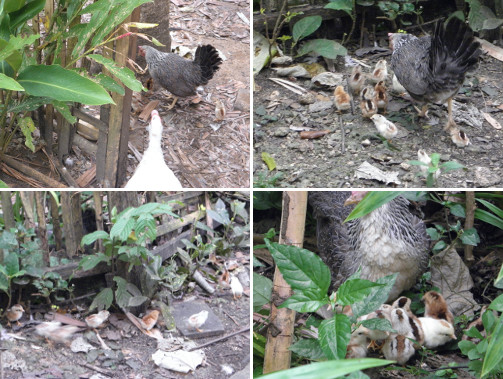 Born Today
while some older chicks are still going strong

with ducks of all ages everywhere!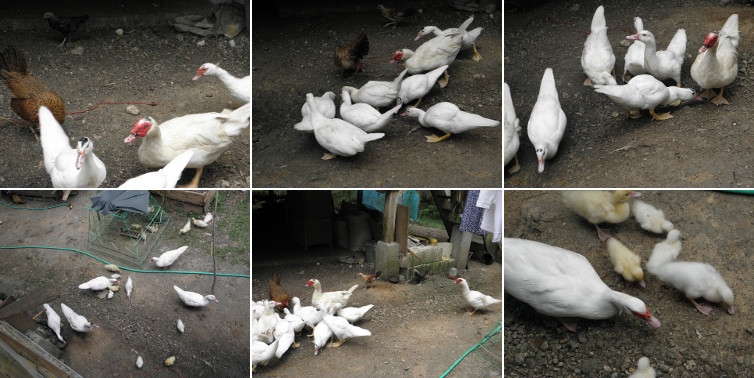 and ever more baby ducklings

24 February:
Future Harvest
Cucumber Chili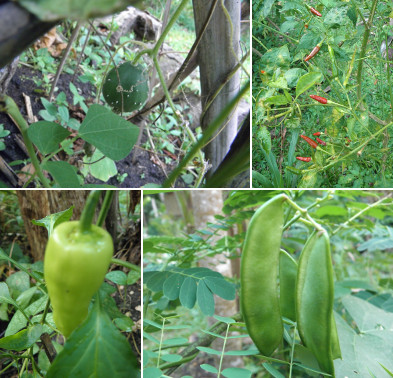 Paprika Beans


Newly seeded compost patches


Compost Mix, Alfalfa and various grains
Extra Anti-Chick Protection against newborn chicks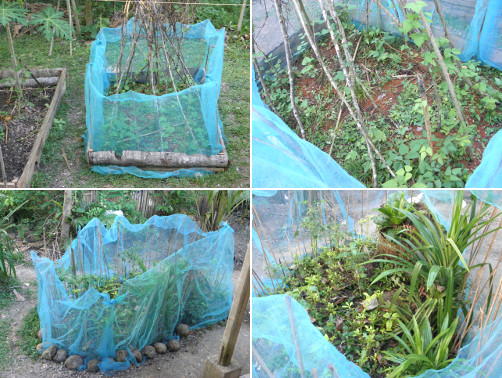 Re-seeded with Alfalfa to improve soil
Shy Herbs dying
(lack of sun?)
Moved from balcony railing to seedling nursery
Condemned Chicken House and Pig Pen

before demolition for construction of new Pig Pen
25 February:
....and down she goes!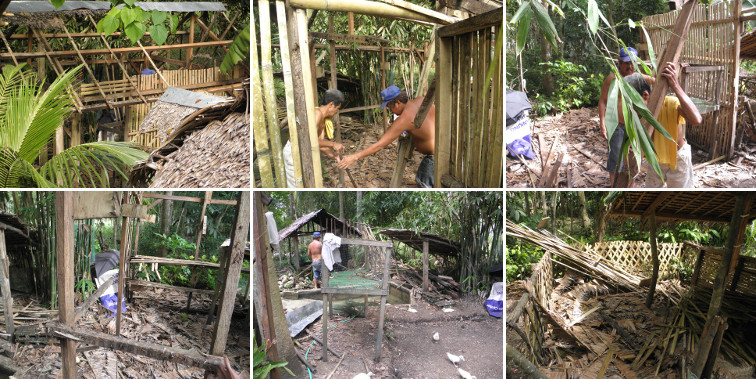 Then digging up the pig pen floor to place deep litter flooring

.....and provide soil for compost areas

The Duck Pond needed to be cleaned up
-after fish died from too much (baby) duck excrement



Fallen Banana Trunk finally removed and fencing repaired
Extra protection needed against young chicks

Semi-ripe bananas used as animal fodder
Termite nest found on fence

-and a failed water feature waiting for treatment
Happy Hens -but one badly trampled duckling trying to survive

26 February:
Pit for deep litter floor started


...and new growing areas created

Soil from pig pen
Water Feature made to leak


Drained -ready to be filled with soil
Young shoots


Re-seeded and put to bed



Sown with grains and compost mix

27 February:
Trying to find order in the bean jungle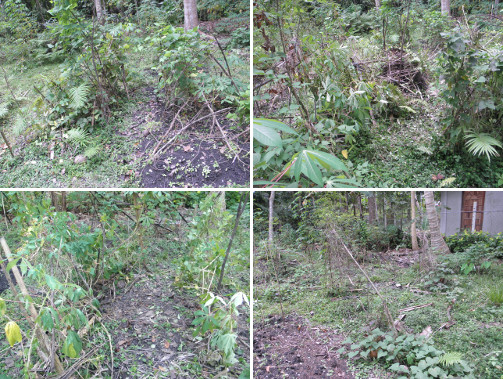 ....but the pig pen continues to rise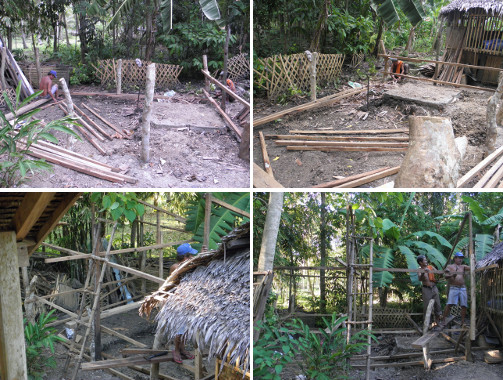 28 February:
....and the roof starts to take shape


---
---
Trevor Batten
<trevor at tebatt dot net>
Baclayon 2015
home
---