Tropical Heritage Garden Diary:
September 2015: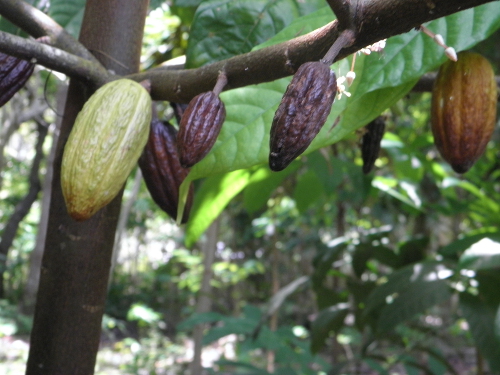 September 02:
The Ducks enjoying a life in the sun

New Ducklings too.....

Some seedlings obviously
profiting

...but others less so

While the Piglets need shade to prevent sunburn

So, is the garden a Desert or a Jungle?

September 08:
What does our afternoon visitor think?


(monitor lizard)

Now new seedlings growing in recently reseeded patches





Coconut Compost patches growing a variety of plants

A few Winged Beans

.....and perhaps a few other Beans

Various amounts of growth in main garden area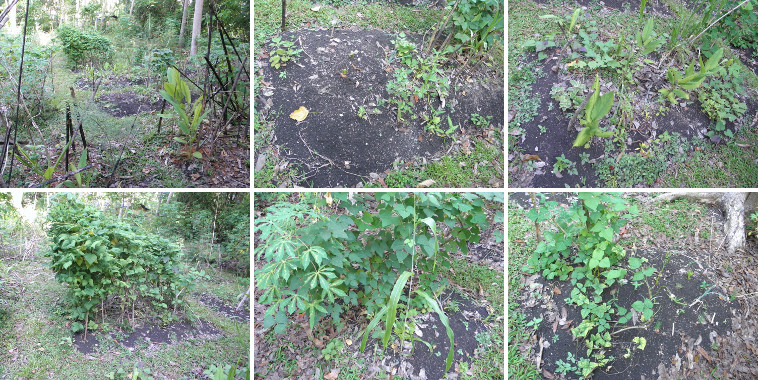 Turmeric, Various Vines and Ginger growing together
somewhere


Various transplanted Tree Seedlings surviving
so far
Coffee, Citrus, Cashew

With more seedlings in the nursery area



....and Encouraging Perspectives





The Piglets seem happy

The Duck too

and others as well......


September 09:
Tilapia in Fish Pond


Ducklings in pen


Beans growing up a fruiting Native Lime Tree

....and then the wind brings rain to help the plants grow

September 10:
A bit of Sun.... and More Rain...



.....but also Sunshine
again



September 11:
New Bush Beans sprouting in garden patch


Various new shoots in another patch

With various plants flowering

And more rain with sunshine

September 12:
Curious pigs -and a dead duckling

Butlig seems happy -despite his hernia


Pig Pen fence replanted

-further away from fence, to give more sun



September 15:
Vegetables Growing in Garden
Saluyot Winged Beans Talinum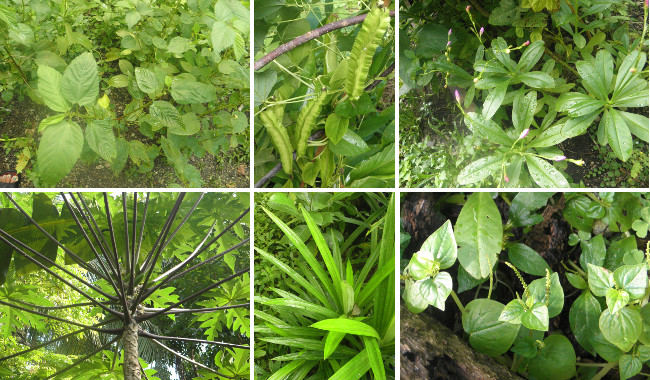 Papaya Pandan Pancit Pancitan
Harvested Vegetables

Winged Beans Papaya Okra
more Rain....

...and Sunshine again



Collected Seeds Ready for Planting
Beans Vines Others

Lima, string, winged, etc.. Luffa, Sinkemas, Squash Papaya, Saluyot, Okra, Cashew
September 16:
Sinkamas
Deflowered -to make edible roots grow

Happy pigs
while work continues painting wood with protective oil


Unruly Patch
Needs tidying up

September 18:
New Water Plants


(to keep reservoir water fresh)
New Garden Gate


(Made by Alex)
Alex and Terri building a new chicken pen

Newly tidied patch

September 19:




September 22:
Hernia ward


Blackie has half a tennis ball taped to her stomach -to push hernia back
Scratching pen removed from garden patch

But the netting is still there....


Recently planted Citrus seedlings

Recently planted coffee and cashew seedlings

Under Development....

....a space for new seedlings
Ducklings finally released from pen

Photo: Fatima Lasay

New ducklings in a new pen

Photo: Fatima Lasay

Blackie is back with her siblings

Photo: Fatima Lasay

Another case of "dead cat syndrome"

Photo: Fatima Lasay
September 23:
Starting to organize the seed bank


September 30:
Runt and Blackie with Butlig again
to fatten runt


-but no tape....
More water plants -but for how long?


Going..... Going...... Gone!
Unprotected areas vulnerable to chickens and ducks

Coconut composts continue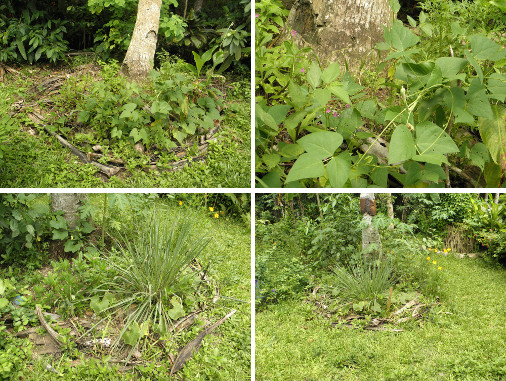 Young Luffa



Sinkemas seeds and Okra

young trees in the nursery

corner improvements

And an interestingly complex corner patch


Order in the Chaos?

Beans Carrot Squash
---
---
Trevor Batten
<trevor at tebatt dot net>
Baclayon 2015
home
---