Tropical Heritage Garden Diary:
June 2019: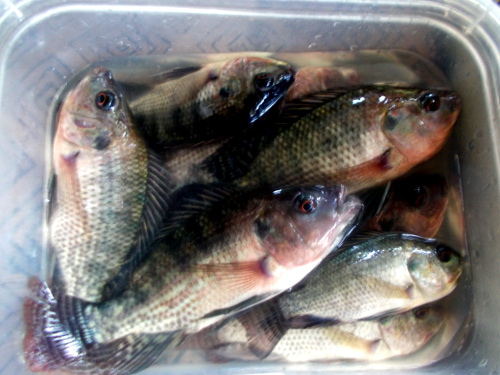 June 01:
Nesting Hen

Chicks and Ducklings Together


Seeds Sent From Manila


Duhat, Apple Mango and Hog Plum Potted

A Few Drops of Rain

I Have a Boil



Fatima Goes Fishing



...and the Cats Get Excited

Home Cooked, Home Grown, Pot Roast for Dinner

June 02:
Rain Again


Two Types of Beetroot Planted (from Unique and Yates)


A Continuing Harvest of Passion Fruit


June 03:
More Rain


A Protective Cage against People and Chickens


Boil is Getting Smaller


June 05:
Rain in the Night


Pinkie is moved into the Empty Pen While His Pen is Cleaned



Starving Stray Cat Comes Visiting


Remaining Pineapples Planted and Some new Ones Too



Rain Again

Assorted Vegetable Seeds Mixed with Soil and Broadcast in Protected Areas


Squash, Bush Beans and Maize Planted in Previously Composted Area


Boil is Still Healing


June 06:
Auntie Brownie Moved to Pen Next to Pinkie



Brownie's Pen is Tidied Up and No. One Moved In



No.Three Has Problems Again

Indian Pepper Seedlings Transplanted and Replaced with New Seeds



A Light Evening Shower


June 07:
Two Batches of Shop Tomato Seedlings Transplanted




...and two Empty Pots Re-seeded with Roselle and Star Anise


June 08:
Rain


June 09:
Dead Frog Left by Cats


Assorted Pepper Seeds Mixed with Soil and Broadcast in Protected Areas


Asparagus and Tomato Seedlings Transplanted


Useless Plastic Protective Screens Removed


June 10:
A Surfeit of Ducklings (For Sale?)


Pinkie and Brownie Get Together -but she is not ready



Transplanted Cucumber and Tomato Thriving in Old Boar Pen Area


Seedlings Growing in Protected Areas



Devastation in Unprotected Area

June 11:
More Pineapples Planted



Making a Temporary Piglet Pen -In case we have "orphans" again



June 13:
Work Continues


June 14:
Rain in the Night


Day Trip to Cebu -To collect Fatima's Camera



June 15:
Last Two Goats Sold -Reducing our workload



Ducklings Don't Seem to Care!


Pinkie and Brownie Get Together Successfully



Rooster Moved -To encourage grass to grow back


June 16:
Ginger Planted in Border Area


June 17:
Rain in the Night




Maize, Squash, Beans, etc. Planted and Protective Fence Constructed


Mustard, Carrots, Radish, etc. Broadcast Inside Fenced Area


June 18:
Banana Tree Harvested -For Food, Forage, Compost and Nesting Material for Sow


June 19:
Even More Pineapples


Peanuts, Mung Beans and Sesame Seeds Scattered at Various Locations


Raffia Twine Used to Scare Chickens from Protected Area


Half Empty Bags of Soil Dumped on Composted Area

June 21:
Balcony Fencing Finished


Protective Cage for Hot Pepper Plant


....and Some More Pineapples Planted


June 22:
Farrowing Not Started Yet


June 23:
More Garden Fencing -To Keep People from Damaging Hedges By Walking Through Them


Protective Wire Netting Positioned in North Garden and Broadcast with Seeds


Still Nothing from No.Three

June 24:
Rain in the Night


Two Pineapples Harvested -and tops replanted



Seeds Sorted into Large (Planted), Small (Broadcast) and Vines


Cats Hatch Eggs?


Another False Alarm

June 25:
Composted Patch Staked, Sown with Large Seeds, Fenced, Broadcast with Small Seeds and then Watered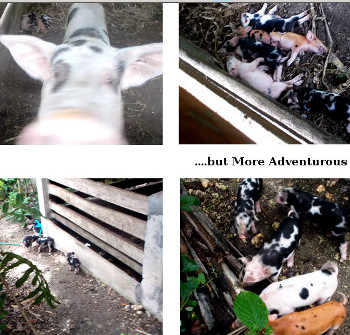 June 26:
Second Protected Area Covered with Raffia to Scare Chickens



June 27:
Dead Lizard on Bathroom Floor


Fallen Banana Tree Harvested


June 28:
Recently Sown Protected Areas are Sprouting





Playing Chicken with Cats


Another Banana Tree Harvested



June 29:
Large Seeds (Peanut, Bush Beans, Maize, Mung, Okra, Sesame) Planted in Unprotected Area


June 30:
The Garden is Drying Out


Cucumber Harvested

Three Pots with Asparagus Transplanted

Sold Goat Kid Returns Home -Put in pen after eating plants while tied up

---
2019
January
February
March
April
May

---
Trevor Batten
<trevor at tebatt dot net>
Baclayon 2019
home
---