Goodbye Trees
-17 January 2019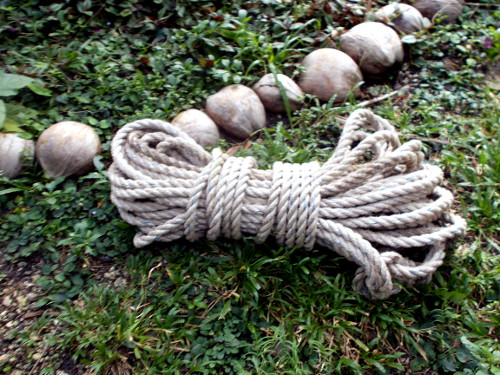 Thinking:



Sharpening:







Cutting:



Then Repeated as Required
-Two



Again:

-Three





...and Again:

-Four





Creating Chaos out of Order:




...and Order out of Chaos:





--------------------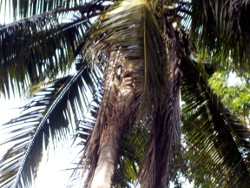 Too Many Trees:

For some time now we have been planning to cut down a number of Coconut and Mahogany trees on our small plot of land.

The price of copra (dried coconut meat) is not high enough to make production an economic priority, Additionally, coconut trees suck nutrition from the soil -and can be extremely dangerous when coconuts and other debris fall from the trees.

Mahogany is an invasive species -that also poisons other plants. Too many trees also create unwanted shade -and prevent a wider variety of crops from growing.

So we prefer to plant both native, and sometimes exotic, edible fruit trees. Even non-edible native trees provide habitat for a wide range of birds, lizards and insects. -as well as forage for goats and pigs.

However, the cutting of coconut trees is regulated by the governmental Coconut Authority -and they had recently had a ban in place. Other activities kept us from felling until now. In order to minimize the damage -and give us time to process the debris -we started by felling just four coconut trees.

-----





Collateral Damage:

Felling trees is dangerous, skilled, work. Especially where space is limited -due to the presence of other crops or human habitat.

The collateral damage was the worst with the fourth tree. One Mango was severely trimmed and another one cut down completely in order to fell the last coconut tree.

This left a huge pile of debris that could not all be stacked away neatly (for forage) or given directly to the animals.

My cutting list -which provided for quartered coconut logs being used along the borders of several garden patches was exceeded by the fourth tree -so there were no plans for using the logs. The remaining tree trunks were therefore just sawed into "manageable" lumps and left along the hedge for disposal later.

The other three trees, however, were generally disposed of quickly and efficiently -and most of the mess cleared up by the end of the day.

Clearing up the remains of the last tree, will certainly take quite a lot of time and effort.

But in general, the garden seems very much improved -and the effort should be well rewarded as the existing, and soon to be planted, vegetation responds to the new situation.

--------------------



--------------------
Goodbye Ihid V

--------------------