Tropical Heritage Garden Diary:
March 2016: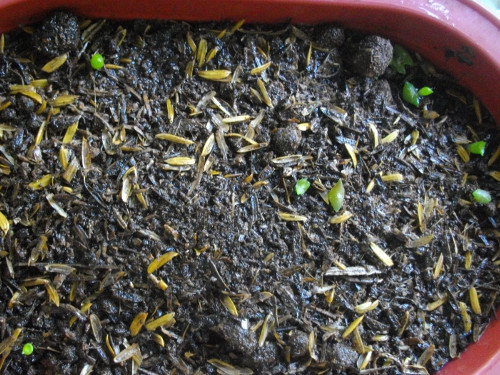 March 01:
Starbuck -two months old today


Butlig looking for a new mate


Cacti profiting on balcony from dry weather



Goat pen under construction








March 02:
Gas tank replaced


March 03:
Sorghum seeds -bagged and collected


Lots of young Tilapia

A Quiet Evening -inside and outside


with Spider on Balcony

and Hungry pig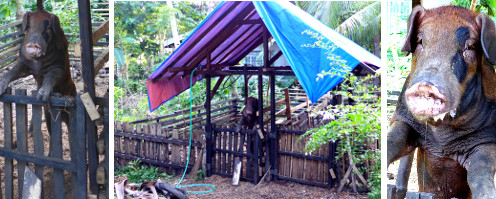 March 05:
Dry weather -with plants trying to survive


Plants provide shade for each other

Weeds can be useful -but chickens?

Although livestock need the shade

Butterflies enjoy the flowers

...and some plants are even fruiting

-including Cacao bean pods which can be opened and fermented


....but in the evening there is no electricity

March 09:
Hidden eggs and nesting chicken


Young Cocoa pods, Jack Fruit and Banana


More eggs and tadpoles in water reservoir

March 10:
Work on the Goat Pen continues






More Cactus seeds sown

New Life Everywhere

...and a Giant Moth!

March 11:
Devastated by Chickens!


Anti-Chicken Net for Balcony

Avocado Tree rescued from Cobra Vine

Goat pen finally finished!





March 13:
Drying, Roasting, Peeling, Grinding and Boiling Cacao Beans to make Chocolate






Full House!
Goats separated to prevent conflict


No more empty pens....
March 14:
Modifications to the pig pen roof







A sandy floor for the ducklings



...and a new roof for the male goat's pen

March 15:
Building a Pig Trough









No Rain -water getting low in Duck Pond


Butlig gets a net as protection against falling coconuts

Project finished -with tarpaulin in place

March 16:
First new cactus shoot
-planted March 10


March 17:
No.1 starting to loose her figure...




March 20:
Goodbye Ihid

(50 kg)



To celebrate a local graduation

Chicken lays egg on worktable -and gets caught in plastic bag


Garden Spiders

photo: Fatima Lasay

photo: Fatima Lasay
March 23:
Crab found in garden


March 25:
Frog in House


Monitor Lizard outside by Reservoir

March 26: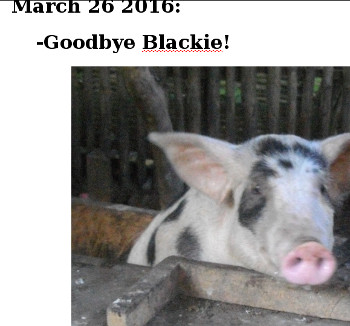 Goodbye Blackie!
... and Hello Chicks!
Born today -in a vegetable patch


Garden drying out

....but a Freezer full of Meat

March 27:
More eggs on Worktable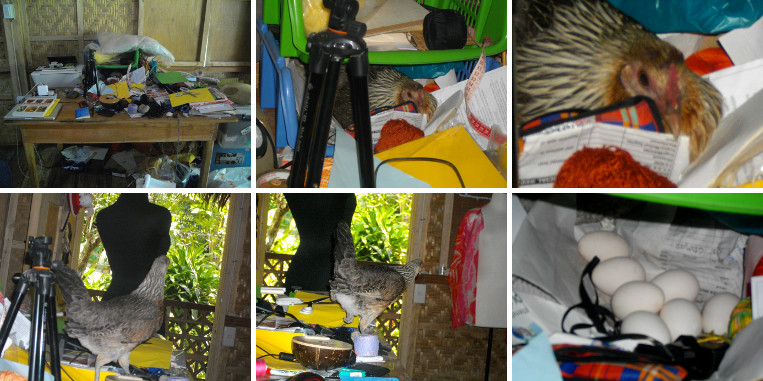 (but then hen disappears -perhaps eaten by a neighbour)
Another hen already sitting on Eggs

and Young ducklings in the Fattening Pen

Making Tocino

March 29:
Sausage making/Home Processed meats

Empty pen being modified



Tadpoles eating a piece of pork
fallen in reservoir

Bone Soup for lunch

March 30:
A surprise packet of seeds from a Hungarian friend



Brownie is moved to the other pen

Tocino
for lunch

No. 3 is moved too -leaving No.1 alone in her private suite

March 31:
Escaped rooster recaptured


Belly Bacon for lunch

Hedge becoming tidy -as a result of feeding to goats in pen
Tenderloin and Dinuguan
for Evening Meal

Home Processed meat products
Homemade Pork Based Meals
---
---
Trevor Batten
<trevor at tebatt dot net>
Baclayon 2015
home
---