Tropical Heritage Garden Diary:
April 2016: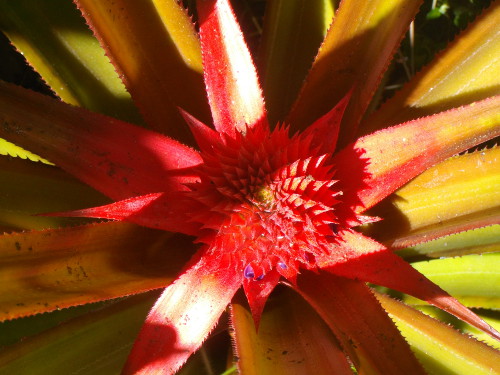 April 01
Jack Fruits growing

Pineapple too



Sausages -Dried....

....or Smoked

Bone Soup with Dinuguan for lunch



A few drops of rain -but garden drying out




Fried Sausage and Camote snack

Sitting hen hatches chicks

Braised Pork Loin for evening meal
April 02:
Hen with newly hatched chicks being moved to a safer place



Soup with Sausage and Pork Loin for lunch



A few more raindrops, washing brought in -but little effect on the garden



Another hen brings her chicks to the creche


The last of the soup -with Tocino for evening meal

April 03:
Missing!
Leaving seven eggs behind


Homemade Bacon with Eggplant Salad

Last hope for saving garden from Drought

Boiled Hock with Samosa and Papaya

April 04:
Damp earth and leaks in roof after a little rain


...but then the sun


Humba with fried cabbage and Chinese celery for evening meal

April 05:
A bit more rain today -but not much


Homemade Sausage with pasta for evening meal

April 06:
Goats relaxing after breakfast



Hungarian Beans planted in cool patch behind the Goat Pen


Bacon, Humba and Fish for Lunch

Cinnamon Bacon Balls in Tomato Sauce for evening meal

April 07:
Lemon Seeds planted in a pot


Hen sitting on pile of sacks

Another area behind Goat Pen renovated and planted with various house and imported Beans



April 08:
One Cactus pot unveiled and a New one seeded




Young Ducklings released from Fattening Pen

April 09:
New Ducks arrive -bringing more Genetic Variety



Recently released Ducks enjoy Breakfast

.....and then check out the New Arrivals

Garden patches planted with Hungarian Paprika, Tomato and Parsley seeds


Large Water Snail in Fish Pond

Egg Foam near Water Reservoir

April 10:
Cacao pods Harvested and Opened to allow Fermentation


April 11:
Material arriving for Renovation of Pig pen


Lemon seeds starting to sprout?

(planted April 07)
Coriander roots planted in Pot with Ashitaba

(next to pot with Parsley)
The Neighbours decide to burn some dry leaves


April 12:
Butlig gets a wooden feeding trough





The Two Girls get one too!






No. Three has a Genital Problem



(Possibly caused by rubbing on Concrete are in Pig Pen)
Concrete Removed from Pen and put in Water Feature



Terri levels Butlig's pen with sand


Preparing to replace the Pig Pen tarpaulin

Mahogany Husks drying out in the sun before being used for Cooking Fire



Mother Hen teaching her chicks how to destroy the garden in search of termites and other insects



April 13:
The Tarpaulin roof is replaced by Nipa








No. Three gets a painting with antibiotic






Area around Northern pig pen cleared up






...with discarded wood used in the garden to line paths -or as support for climbing plants





Strange Amber globules on Citrus tree






No. Three sleeping in feeding trough while waiting for Nipple Drinker to be installed





...with patience rewarded at last






Ducks start laying eggs again -the first time this year





...and a few Papaya Caught





...but is No. Three getting better -or worse?


April 14:
Area behind the Goat Pen being cleaned up



Sticks used for Climbing Plants and to deter Chickens

Two Hungarian Beans sprouting


...and One House Bean


then Rain -very soft at first

...but harder later




....and certainly welcome!

April 15:
Caimito, Lemon and a Tambis seed planted in pots


Not Lemon -but perhaps Chilli



Our Native Rooster meets the Neighbour's Kabir Hen

...but our Goats seem happy enough in their pens

...with reserves hopefully growing soon in a surrounding hedge

Hungarian Peas planted in various garden plots

A few raindrops -but enough to refresh the plants


and keep the pineapple growing

April 17:
New Trough working well -but Nipple Drinker demolished by pigs


No. Three improving
(antibiotic is working)

Hungarian Peas and Beans planted in wild Patch near Goat Pen

April 20:
Sky Overcast -followed by Rain



Cactus Seedlings unveiled



Youngest are biggest!

Other cacti surviving reasonably well on balcony

April Showers bring April Flowers


...and more Hungarian Beans

Plus new chicks for Hen sitting on sacks of sawdust


April 22:
Area behind the Goat Pen finally cleared of junk



gaps in Goat Pen Fence closed to stop goats eating young plants outside

Various garden patches planted with Hungarian Beans and other Vines

Two House Beans now


April 23:
Hedge planted outside Goat Pen fence


Gas Cylinder changed

April 24:
Prolific Cobra Vine -with flowers and seed pods


Northern patches covered with rice hull and sawdust

One Coconut patch with Rice Hulls and the other with Nothing

Boiling Water and Cooking with charcoal stove


April 26:
Another (last) pot sown with Cactus seeds


Cacti on balcony Reorganized


New ducks started laying (yesterday)


Fattening Pen made ready for new Inmates


Tomato plants in Lemon pot transplanted to patches near Pig Pen

House getting tidied up for visitors in May

Underneath the House too -as protection against termites

April 28:
The arrival of the beds locally made for our May guests


April 29:
Local Family bring goat for Insemination


---------------------------------------------------
---
2016
January
February
March
May

---
Trevor Batten
<trevor at tebatt dot net>
Baclayon 2015
home
---