Tropical Heritage Garden Diary:
April 2017: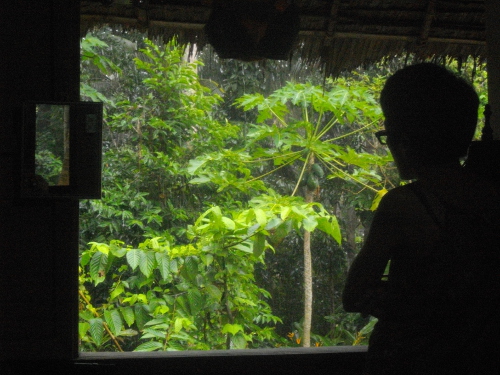 April 01:
Work Continues on the Roof





April Animals in the Rain


Blackie jumps out of his old pen -and gets moved to another one


April 02:





April 04:
Some Metal Roof Parts delivered


-but Rain prevents further work

April 05:
Pig Pen Floor Flattened and Fences Fixed



Disposing of the Old Roof


Some more Metal


Some more Work

...and lots more Rain
April 06:
More Rain Today Too....


Pregnant Cat?


April 07:
Duck enjoys a Private Bath


Blackie is moved to a new pen

Brownie gets the maternity suite

...and Pinkie gets Brownie's pen
While work on the Roof continues
Again



April 08:



April 10:
Emergency repairs to roof -after damage by exploring cat


...and rebuilding the new roof
continues


April 11:


April 12:
Rain!



First Nipa pile finally Redistributed

Bamboo area Trimmed

April 13:
Purple Dragon Fruit Planted


Unwanted Tree Cut Down and Recycled


April 16:
Heavy Rain in the Night


April 17:



April 18:


"Sticks" from Old Roof used to make Trellis for Garden Vines


April 19:



Food, Glorious Food!

April 20:
The Seed Station gets a new Home -and a tidy up


Tons of empty Seed Packets -marking years of failure


The kitchen gets Moved


a New Temporary Bedroom

...and a Home found for the Rest

So the Demolition can Start







April 21:
and the Rebuilding can Continue....



April 22:




April 23:
The difference between Dumping and Distribution


The difference between Garbage and Compost

April 24:
Rain and then Work
Again



April 25:
Pineapple


Beans


Kittens


House


April 26:
Cleaning up the Termites in the Bookcase


Clearing up the debris from the Chesa Tree





Putting On the Roof

April 27:



April 28:





April 29:




April 30:



---
2017
January
February
March

May

---
Trevor Batten
<trevor at tebatt dot net>
Baclayon 2017
home
---