Tropical Heritage Garden Diary:
August 2019: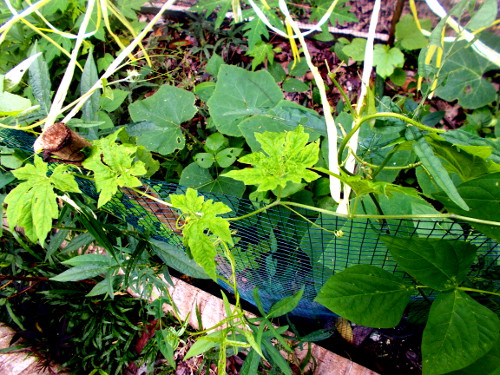 August 01:
Pinkie's Wound is Almost Healed

August 02:
Balcony Chicks

Garden Patch Prepared for Planting and Fencing


A Short Evening Shower

August 03:
Garden Patch Planted and Fenced



Chicken Makes a Mess on the Balcony


Another Jack-Fruit Harvested



Rain in the Night

August 04:
Tap Water Supply Disrupted


Unhealthy Banana Tree Trimmed and Fed to Pigs


Rain in the Afternoon


Raffia Put on Newly Fenced Area -To deter chickens


More Rooster Mix Potted


We are Given a Black Chicken


Fatima Catches a Rooster Causing Chaos in the House

August 05:
Tap Water Returns

...and Then Disappears Again



Four Stages of Growth in Newly Protected Areas

We Give our Housekeeper Two Roosters -For her husbands birthday


Trimmed Tree Used as Support for Vines and as Forage for Pigs


Papaya Tree Trimmed to Encourage Avocado Tree Growth





Oil Palm Trimmed and Used as Compost for Surrounding Trees


Black Chicken Settling In

August 06:
Water Returns in the Morning


No.One Is a Bit Under the Weather -so she gets a Bath to Cheer her up


Three Ducklings Found Abandoned By their Mother -who is still hatching more eggs

Water Disappears in the Afternoon


I've Bought A New Computer


August 07:
Water Returns -but for how long?


Night Storm Damage Collected and Fed to Pigs


Installing Linux on the New Computer


August 08:
Water Disappears Again


Hatched Ducklings Killed by Predator -While mother continues to sit


Rescued Ducklings Moved to Pen


No.One is Put in the Garden To Cheer Her Up


No.One Has a Fever and is Given a Bath -She is eating and drinking very little


No.One Starts Vomiting Blood and is Put Back in Her Pen


A Strange "Lantern" Weed in Nursery Area


The Water Returns


August 09:
August 10:
A Sunny, Lazy, Afternoon



Protected and Nursery Areas Watered


Small Ipil-Ipil Tree Cut Down and Fed to Pigs



August 11:
First Two Piglets Taken Away



Banana Heart Harvested





Duck still Sitting Amongst the Debris





Orphan Ducklings, Captured Rooster and New Black Chicken All Doing Well



We Discover We Have Two Crazy Neighbours -One cuts down our plants and the other throws paint into the garden


Happy Happy

That's what they called it, happy happy, the alcoholic interludes
Tainted with nicotine delights, the pseudo-fiesta fares foraged from
The Gardens of Others, cooked over fires burning from sinful woods
Stolen - no - taken, from the old woman who died of a weak lung
Because they poisoned the country air with their happy happy.

They had lights that ran from the roof to the ground, like the rats
That infested the debris from their food and vomit, yet the decor
Was impressive, garish without pretense of poverty, tasteless ersatz
Of glittering plastic and foil, and wide flat screen television interior
Lighting terrifying the fireflies that hoped to find a mate in the night.

And there was music, and singing, such frightful singing that struck
The bitches to abort, microphonic singing that confused the birds
To migrate, heroic singing applauded by the explosive cough
Of tuberculosic air bags and sticky pipes, rotten teeth, swollen gums
And all the time in the world to dye their hairs down to the roots.

Why not indeed, after many years of servitude and petty pillory
Rewarded by an old age pension, why not happy happy indeed
After a trail of disposable wives and the last to keep for the laundry
Happy happy not only for oneself but also for those in great need
Of alcohol in their blood, smoke in their lungs and a dildo in their ears!


Fatima Lasay, San Roque,
February 9, 2019, Saturday

August 12:
Another Banana Tree Harvested -But too late, eaten by bats


Remains used as Compost or Fed to Pigs


Dead Eggs Removed from under Duck -But she remains sitting


Banana Heart Harvested Yesterday Provides a Meal for Tonight


August 13:
Twisty (with deformed beak) Gets Special Treatment -As Always


The Wall Area is Cleaned Up


...and The Remains Composted

A Few Beans Harvested from the Southern Garden


August 14:
Coffee Bush Near Pig Pen Has Many Berries


Tilapia Are Getting Bigger


Posts Prepared for Fencing -But garden too dry for planting

Selected Garden Areas Watered


Two More Piglets Collected -The last two are for us



Our Cat MingMing (Missing for over Month) Returns -But leaves again after not getting fed

August 15:
Two Types of Melon Seed Broadcast in Protected Areas


Guyabana Tree Cut Down and Fed to Pigs



Selected Areas Watered


Fiesta Eve by the Neighbours


A Crab Crossing the Road on the Way Home


The Feast of the Inebriated

It is colonial heritage. Apolonio followed the tradition of his
ancestors. He butchered 5 native chickens. They were about a dozen
more from 3 or so clutches of eggs that hatched in the end of winter.
5 is enough to make stew and there are more for other special occasion
until December. There are some for cockfighting too. The pig was
slaughtered at 4 in the morning. It weighed 80 kilos and was bought as
a piglet three months ago from a neighbour who bred pigs. The
neighbour had an extra weanling that Apolonio bought a week ago. That
will be slaughtered and roasted tomorrow. The rice harvest was good.
There's lots of freshly harvested fragrant rice. The yam harvest was
good too. There was enough to sell and extra in storage for this
occasion. And because there was enough rain in the past month, the
bananas, taros, sweet potatoes, cassava and vegetables growing near
their house and around the rice fields were abundant. Plenty of sweet
wine from the coconut flowers. The feast would consist of everything
Apolonio and his family grew and raised. Some came from what
neighbours grew and raised. There was even extra money from the sale
of yams to buy sweet things to eat and drink. They bought the sweets
because didn't grow sugarcane. This was more than enough. Apolonio
didn't need to take out a loan. He still had enough money to put into
his old age pension for the rest of the year. Enough to fuel his
alcoholism as well.

The lowlanders were busy too. Lupito took out a large loan from his
old age pension. At the same time, his mistress Perlita took advantage
of the generous loans being given out by newcomers in the village. The
newcomers ran a money-lending scheme. So even if Lupito and Perlita
grew or raised nothing, it will be an extravagant feast. Even if they
are still paying the loans taken out two years ago. Even if they
couldn't afford such a feast. Besides, they run a business. They have
a shop in their house. The shop has salty and sweet processed foods
packed in foil, plastic and tins. Perlita ate them most of the time.
The shop had cigarettes and alcohol too. Perlita earned money from
those. She was a chain-smoker so she took some of the cigarettes in
the shop. That was very convenient. Perlita doesn't drink so at least
she gets profit from sales of alcohol. If they had coconuts they could
have coconut wine everyday. But it's not easy collecting the wine from
the coconut flowers. Anyway, a good number of men in the village are
alcoholics and prefer Tanduay Light.

In the meantime, Marceline is having a hard time thinking about what
to serve at the feast. Most of their money was already spent on
alcohol. Her husband is crazy drunk now. Six months ago she had plenty
of work. Now she doesn't have any. Her employers were generous and
kind. But Marceline couldn't stop stealing from them. She stole
clothes and shoes from the shop where she worked as a cleaner. She
stole money and vegetables from the public market where she worked as
the vendor's helper. She stole money and detergent powder from the
couple she worked for as a laundrywoman. She has four children. Her
neighbour started playing loud music. It was Eva Eugenio. Her husband
started shouting and breaking things in the house. Their neighbour
turned down the music so the whole village could hear her husband
shouting. Everyone is used to it. But they all wanted to know what he
was angry about.


Fatima Lasay, San Roque
Thursday, August 15, 2019

August 16:
Fiesta with the Neighbours


A Discarded Snake Skin On A Jack-Fruit Tree Branch


August 17:
Marinated Pork Cuts


More Trees Trimmed -Providing stakes for beans and forage for pigs



Garden Drying Out


Nursery Area Watered


August 18:
Another Tree Trimmed and Fed to Pigs


Still No Rain

August 19:
Another Papaya Tree Chopped Down



Fatima Does Some Cooking Under the House -and fumigates it....


Although Some Cooking is Electric


I have Skin Problems Again

MingMing Drops in Once More -but leaves when ignored


My Chair Gets A Thorough Sanding Down


The Garden is Drying Out


August 20:
Fatima Captures a Rooster

Scratching Pen Cleared of Plants and Used for Rooster


Rain at Last!


August 21:
Rain in the Night


Fallen Papaya Tree Top Cleared Away



Garden Patch Weeded, Planted, Seeded and Fenced


No.Three is Unwell Again -Light Fever, Listless, Snouting the Ground, With Loss of Appetite and Some Discharge




August 22:
No.Three is still Unwell



So A Technician Gives Her An Injection of Anti-biotic


I Too Go to Hospital for a Check-Up -After a 12 hour fast....


We Hope No.Three is Improving


She is given Sugar Water, Bananas and Green Vegetables to Help Build Up Her Strength



August 23:
Rain in the Night


No.Three is Lethargic and Not Eating of Drinking Much


We Clean Her Trough and Try Giving Her Water by Hand


Another Small Shower in the Afternoon


Raffia Added to Newly Fenced Garden Patch


August 24:
A Quiet End to A Sad Day


August 25:
Time Passes


...and Life Goes On



My Sores are Healing


August 26:
An Overcast Morning -There was a powerful smell of burning rubber in the night


When Man Discovered Fire

It was nighttime. The darkness would hide what Denela was about to do.
She brought the bucket outside and dumped its contents into a corner
of the yard. There were several plastic containers from softdrinks,
empty foil and plastic sachets from shampoo, vinegar and soy sauce,
sardine and corned beef tins, plastic bags and paper. She squatted in
the dark and in a few seconds, a small burst of light. There was no
wind, so the light was unwavering and it grew bigger and bigger. The
contents of the bucket burned. Black smoke billowed out of it. She
quickly walked away, back into the house and placed the bucket back
into its place just outside the kitchen for refilling.

A banana and cassava grove lay between her house and the automotive
shop. Someone turned off the lights. It was after dinner. In the empty
space behind the shop there was a scuffle. Then a small burst of light
that grew bigger and bigger. It was bigger than what Danela had in her
yard. The smoke billowed not because of the wind but because of it's
own intensity. There was no wind, not even a light breeze. The fire
consumed rubber, brake fluid containers, disposable paint cups,
fluorescent lamps, rags, clothing, and pieces of electronics.

50 years ago, Victor discovered a great way of catching chickens in
the night. They are perched high up in the trees. What Victor did was
take an old vinyl record. He went into the woods. Under a tree where
there were chickens perched, he squatted. There was a small burst of
light that quickly became bigger. He walked a short distance away and
watched the black smoke climb into the trees. In a few minutes, 5
chickens fell to the ground.


Fatima Lasay, San Roque
August 26, 2019



Relief Goods From Manila

Fatima Wears her new Animal Feeding Cap

August 27:
Rain in the Night



Rain in the Afternoon -Reserves filling up again


August 28:
Hospital Check Up Continues


Fallen Coconut Branches Cleaned Up


Some Green Trimmings Too

Harvest Not Yet Home


August 29:
Protection for Some Plants is Improved



...Then I Cut my Finger -and have to stop work

August 30:
A Relaxing Day


...and A Few Chickens Less to Worry About


August 31:
I Try Acupuncture Again



Rain


...and More Rain


Gecko Hounded by Cats Escapes

---
2019
January
February
March
April
May
June
July

---
Trevor Batten
<trevor at tebatt dot net>
Baclayon 2019
home
---