Tropical Heritage Garden Diary:
September 2019: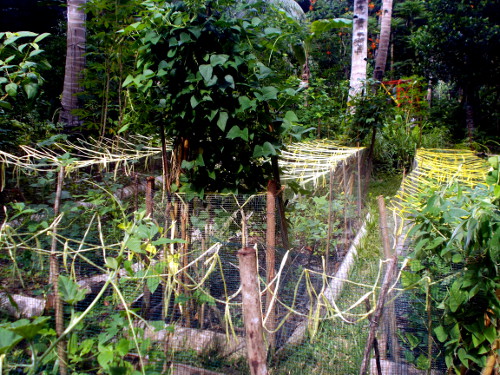 September 01:
Fallen Bean Poles Restored -After heavy rain in the night


Fallen Coconut Branches Removed


Turmeric, Ginger and Oregano Transplanted in Garden Patch


Assorted Vine Seeds Planted in Various Locations

Assorted Rooster Feed Seeds Planted in Various Locations


Evening Rain

September 02:
Rain in the Night


Papaya Seedlings Transplanted



Cassava Cuttings Replanted

Three Cashew Seedlings Transplanted


Paths Tidied Up in Southern Garden


Tilapia Feeding Frenzy When Fed


September 03:
The Northern Jungle!


A Start is Made with Improving the Northern Garden


More Turmeric Transplanted


Some Lemon Grass Transplanted


Excess Water Plants in Reservoir Moved to Duck Pond


September 04:
Empty Pig Pen Cleaned

Garden Patch Cleared of Weeds





Happy Pigs!




Garden Patch Manured and Made Ready for Planting and Fencing





My Balcony Chair Gets Sanded and Given a Coat of Varnish

September 05:
Garden Patch Planted and Fenced




Chicken for Dinner Tomorrow





...and Lots of Ducks for Later


September 06:
Anti-Chicken Raffia Added to Fenced Area

Chicken Dinner


Ducklings Put in Protective Custody with Their Mother

September 07:
Rain in the Night and Early Morning



Escaped from Custody


Nesting Hen


A Sunny Late Afternoon


September 08:
More Compost for the Garden


Another Ailing Banana Tree Cut Down and fed to Pigs


September 09:
Two Banana Trees Planted, Two Trees Cut Down, -and A Snafu





A Start to the Taming of The Northern Jungle


Two Northern Patches Cleaned and Composted


September 10:
Seeds Starting to Sprout in Recently Sown Garden Patch


Another Patch Cleared and Composted



September 11:
Refuse from Cleared Patches Fed to Pigs

Another (Southern) Patch Cleaned and Composted


September 12:
Early Morning Rain



...and More Rain During the Day



Ducklings Back in Protected Custody

The Ducks Don't Seem Very Interested


September 13:
Storm in the Night -Debris removed and stored for various purposes




Brooding Hen Covered Against Rain

Ducklings Determined To Escape
-At least one dead already


Seeds Growing Quickly in Recently Fenced Garden Patch


Previously Felled Trees Removed and Composted



Used for Firewood or Saved as Posts for Fencing

Or for Borders Around Garden Patches


September 15:
Neighbours Help Piglets (Pork and Beans) Move to Newly Cleaned Pen


Large Spider in Garden


Ducklings Back in Protective Custody




Banana Patch Seeded and Fenced


September 16:
Cleaning the Maternity Pen and Servicing the Fan


Two New Composted Patches



Raffia Put Up on Newly Fenced Area


A Harvest of Passion Fruit


A Sunny End to the Day


September 18:
Another Northern Patch Seeded and Fenced




September 19:
More Work Cleaning Up the Maternity Pen





Dry Banana Leaves Collected


...And A Small Bit of the Jungle Cleared and Left to Compost

September 20:
Work Continues in the Maternity Pen


September 21:
Duck "Liberated" from Fenced Area


Sickly Lanzones Tree Cut Down -To improve the Area and see if tree will regenerate itself


A Small Harvest of Beans


Ducks Eating Banana Tree Trunk


September 22:

Newly Hatched Chicks

September 23:
Some Welcome Rain



Another Northern Patch Planted and Fenced


September 24:
Fallen Papaya Tree Tidied Up


Small Mahogany Tree Chopped Down

The Leaves Composted and The Logs Saved for later

September 25:
Ducks Everywhere....


....and One Got Caught For The Pot




A Few Paths in the Northern Jungle Cleared


Some Turmeric Transplanted in Empty Spaces


Auntie Brownie is Moved to The Maternity Pen -Ready for farrowing


September 26:
Auntie Brownie Appears Sick -She is sluggish and not drinking


We Have to Go To Cebu -To collect my renewed registration card from the immigration authorities


September 27:
Auntie Brownie Eating and Drinking Normally -The antibiotic in her food seems to have worked


....But her vulva is enlarged -Probably due to hormones


The Speckled Hen Shows Off Her Chicks


The Ducklings Seem to be Surviving


...and A Butterfly Hatches Out in the Plant Nursery


September 28:
Auntie Brownie Eating and Drinking Normally in the Morning


...But Not in the Afternoon


September 29:
Auntie Brownie Still Not Eating and Drinking


MingMing Returns for Quick Visit -But leaves after a fight with her daughter


Peanuts, Okra and Squash Planted in Various Unprotected Areas


In the Afternoon We Try Spouting Antibiotic Into Brownie's Mouth



September 30:
Auntie Brownie Gets Her Morning Drink and Medicine



Plant Nursery Area Tidied Up



Auntie Brownie Gets Her Evening Drink, A Shower and Her Medicine -But still not eating



Recently Seeded Protected Areas Watered


---
2019
January
February
March
April
May
June
July
August

---
Trevor Batten
<trevor at tebatt dot net>
Baclayon 2019
home
---