Tropical Heritage Garden Diary:
October 2019: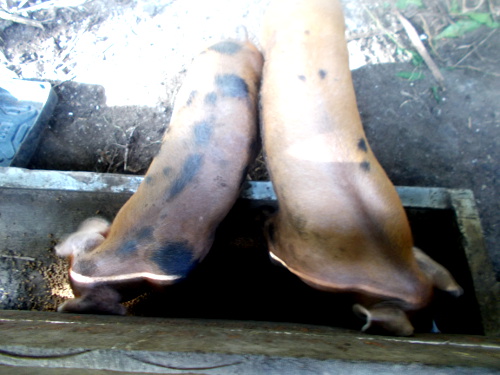 October 01:
October 02:
Rain in the Night


Newly Fenced Areas Starting to Sprout




The Neighbour Brings Us a Rooster -In exchange for our White one


October 02 - 04:
We Take a Short Local Holiday



October 04:
A Neighbour Buys a Duck


October 05:
Rain in the Night


Fatima Catches Some Chickens


The Big Ducklings and the Little Ducklings are Put Together


To Provide Space for a Captured Chicken


Pinkie has Bent his Gate -Looking for Auntie Brownie?


A Small Harvest



October 06:
We Harvest Some Chesa



Fence Post in Southern Garden Repaired


Stones Removed from Northern Patch


Rain in the Afternoon

Another Northern Patch Sown and Fenced


...and Topped Off with Raffia

October 07:
Turmeric Transplanted in Various Places


Small "Herb Garden" Patch Fenced and Seeded


Another Afternoon Rain Shower


Indian Mango and Apple Mango Seedlings Transplanted


October 09:
Eggplant, Tomato with Basil, Rocket, Sesame and Kale Seeds Sown in Pots



More Problems with Our Fridge -The Technicians investigate

October 10:
Waiting for Rain

Some More Chesa Harvested


The Animals Love them


October 11:
Protective Cage Demolished


Fenced Northern Patches Watered


Pinkie, Pork and Beans -Our hope for the future


October 12:
The Team Comes to Take the Fridge for Repair -But decide to leave it and change the thermostat


Another Papaya Tree Fallen Over

...while This One is Waiting


For the Right Moment....




October 13:
Another Small Chesa Harvest


Rain at Last!


October 14:
Duck for Dinner Tonight

Chicken Feed Seeds Planted in Protected Garden Area


Home Grown Pepper and Green Eggplant plus Chicken Feed Seed Potted


More Stones Removed from Northern Garden


Delicious!

October 15:
Rain Again



Fatima is Interviewed as Part of a Local School Project

October 16:
...and More Rain



Fresh Water for the Birds


Food for the Fish


Some Native Limes Harvested


Previously Fenced Northern Patches are Developing Well



Another Garden Patch Ready for Planting and Fencing


Another Day Ends


October 17:
Prepared Garden Patch Sown and Fenced



Recently Potted Rocket, Eggplant, Tomatoes and Birdseed Sprouting


The Other Seeds Not (Yet)


Protected Birdseed Sprouting Too


October 18:
A Small Fence Around the Southern Drainage Garden



Plus One More Northern Patch Prepared for Planting and Fencing


And a Few More Chesa Harvested


October 19:
A Light Shower


Mustard Seeds Broadcast in Various Locations


Seeds Prepared Ready for Sowing in Next Fenced Area


October 20:
Morning Light


Rain



Garden Patch Sown and Fenced



October 21:
A Trapped Chicken Rescued


Boundary Hedge Strengthened with Fence and Cuttings




Ducklings Freed from Protective Custody


..and Then They Invade the New Rooster's Pen -To steal his food


A Small Fence for a Small Garden Patch



October 22:
New Fence Repaired after Damage by Stray Dogs in the Night


October 23:
We Are Woken in the Night by a Group of Religious Minstrels


Fallen Papaya Tree is Removed and Processed



Border Hedge Reinforced to Stop Animals and People Going Through


Most Potted Seedlings Continuing to Thrive



A Passion Fruit Plant is Encouraged to Climb the Pig Pen


Some Papaya, Winged Beans and Banana Leaves Harvested



Small Fence Reinforced with Stakes


October 24:
Ducks in a Feeding Frenzy Chased from Planter -After a Chesa falls into it


So Another Small Fence is Needed.....


A Neighbour Gets A Birthday Chicken

Our Fridge Gets a New Thermostat


October 25:
More Repairs to Border Hedges




Wooden Posts to Protect Hedge Against Motorbikes


A Small Fenced Garden Created by Climbing Frame



Beans is Hotter than Pork -Are one or both getting sick?


October 26:
A Friend Brings Us Seeds from Manila


Rain Again


Followed by Sun


Today Beans Seems Better -But now pork seems a bit sick


October 27:
New Eggplant Seeds Potted


Other Potted Seeds Doing Well -Except Kale and Sesame


Then Rain


Duck Trapped in Pen Has To Be Rescued from the Piglets


Rain


Started More Clearing of Northern Patches


Failed Protective Wire Netting Retrieved from Patch


And More Rain



Meanwhile Pork and Beans Seem Better -Hopefully their Immune Systems are now fully Active


October 28:

Sunshine After Rain


Ideal Growing Conditions




Garden Patch Left to Recover After Removal of Wire Mesh -and the Discovery of Useful Plants

Work Starts on Clearing a New Patch (for pig fodder)


Wire Mesh Now Becomes A Fence Along the Border



....and is Planted With Cuttings


Before the Sun Sets


October 29:
Harvesting Chesa From The Balcony


October 30:
Forgotten Squash Fallen Full of Seeds


With Lots of Rain To Help It Grow



Flowering Garden Patch Trimmed and Composted


Another Attempt to Clear Northern Jungle Patch


...But Rain Stops Play


And Fatima Makes Sausages


October 31:
Rain


...and More Rain


Four Types of Okra Potted in Nursery Area



...and Even More Rain


Followed by Sun


A Bit More of the Garden Patch Cleared and Fed to Pigs of Replanted in Other Places


So Far, Pork, Beans and Pinkie Seem Quite healthy


---
2019
January
February
March
April
May
June
July
August
September

---
Trevor Batten
<trevor at tebatt dot net>
Baclayon 2019
home
---