Tropical Heritage Garden Diary:
July 2016: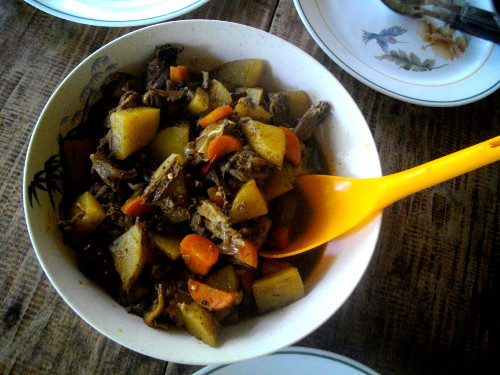 July 01:
New Chicks


Goats trimming grass in Garden

Chicks, piglets and ducks enjoying the Morning

Duck Stew for Lunch

...and Rain for Dessert

With flooding and discomfort for the Animals

July 02:
A Fine Sunny Morning



Yesterday's raging torrents have dissipated

So time to experiment with anti-chicken wire for new seeded areas

Before it starts raining for the rest of the Day

July 03:
Sightly improved drainage around Pig Pen


Removing more rotting organic bedding material from the pig pen
(suspected of causing sow to overheat)
(


July 04:
Another fine sunny Morning

....but perhaps I'm a little impatient in decapitating and replanting pineapple


However, plenty of compost for plants now

...and a bit of rain helps too

July 05:
Getting the roof repaired at last!



New Seedlings

More new chicks -born in the goat pen


.....some ducklings too....

....and the piglets break free

July 06:
More work on our roof



...and a bigger roof for Butlig

July 07:
Nice Sunny Morning


Finishing touches to the roof


Skinks on a coconut tree

Cleaning the pond -Or fishing for Tilapia?

Ducklings go for a first swim


July 09:
Ducklings released from "protective" confinement


July 12:
Recently sown seeds starting to sprout -some more than others


July 13:
Area Selected for new Pig Pens


July 14:
Garden getting overgrown -due to focus on pigs


Ube (Yam) staked up
-at last

July 15:
Piglets 2016 -the third and fourth weeks
July 16:
One Month Old Today!



Contented parents take a rest


...while, outside the pen, a fight breaks out between a duck and a chicken

....and the Passion Fruit patch gets tidied up a bit

July 17:
Piglets less scared of water -and everybody takes a bath


Identical sets of Vine Vegetables and Hungarian beans planted in two different garden patches


Bamboo trimmed back around duck pond


July 19:
A normal day in the pig pen


A Few Drops of Rain

Then Some More

...and Some More


Then an awful lot More...

...With some leaks that still need Repairing

....and Flooded Pig pens

.....but Happy Pigs!

and healthy fruit trees

July 20:
Another seemingly Normal day in the Pig Pen

A trim and a seeding for the decorative Bamboo patch


Other areas get a trim too


However, Bootleg, under the weather, is moved to the gilt's pen

Which upsets Brownie -so she is moved to Butlig's pen -which then upsets No.One

...but eventually everybody settles down

July 21:
A Quiet Morning in the Pig Pens



More trimming of unwanted growth

....with a few more patches sown

....and the Pigs enjoying an Evening snack

July 22:
Still Happy, Still Hungry



Two Giant bamboo roots planted to be used for Fencing later


Rain Outside -and still Leaks Inside

...but it's good for the Garden

July 23:
Another Normal Day



Two Bromeliads blooming -and one not yet

More July Flowers


Retrieving the Southern Garden from the Weeds

July 24:
Another Happy Sunny Day


Lots of Flowers on the Cacao Tree

...and More work Retrieving Garden Patches from the Weeds


Providing snacks for the Pigs

July 25:
Snacks Today Too


July 26:
A Snack for the Ducks

Some Rain and then Sun


More Hard Work Retrieving the Garden



...but a Lazy day for Pigs


July 27:
Another lazy Day


A Little Rain Again


...and More Cleaning Up

July 28:
Snake eating a lizard fascinates Ducks



...but the pigs aren't interested
....and then rain stops play

July 29:
More rain at night and in the morning


...but the pigs don't seem to mind

Although Butlig's tumor is getting quite large

However, the rain has encouraged some seeds to grow (more than others)


But also caused some damage in the garden

which needs tidying up
..or fed to the pigs



July 30:
Another busy day for the pigs


and I clean up some garden paths

July 31:
..and so life goes on....


---------------------------------------------------
Piglets -2016
---
2016
January
February
March
April
May
June
August

---
Trevor Batten
<trevor at tebatt dot net>
Baclayon 2016
home
---