Tropical Heritage Garden Diary:
November 2016: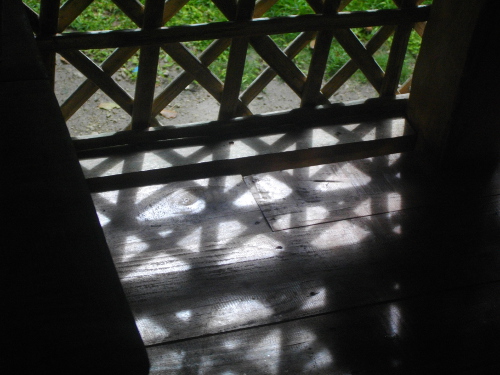 November 02:
Garden Rainforest Panorama




Preparing Area for new Pig Pens

Turmeric Plants Relocated

November 04:
Collected Sinkemas Seeds



Mesh for Pig Pen has Arrived

Small, Big, Enormous Patola!

November 05:
Bamboo for pig pen has arrived


Hedges and Paths Trimmed...


....and Goats Fed


Daylight Rain provides chance to test Drainage Channels



Run-off from Pig Pen causing flood in Goat/Piglet Pen

November 06:
Escaped Pig lured Home with Food


Spare bit of Steel Matting used to repair Pig Pen

Drainage Channels Repaired

Garden Patch Trimmed


.....and Replanted
November 07:
More Chicks born Today


November 10:
Laying Chair


November 11:
New Chicks doing well


November 12:
Piglets and Goats Escaped from Pen


Easily caught -or lured home with food....


...and Gate Repaired


.....but the Piglets repeat the process Again!

November 18:
Another Night-time Visitor


New Duck Coop Under Construction


...and Old Duck Pens being Renovated

November 19:
Duck Coop Construction Continues


...and the hen starts sitting

November 20:
More Construction Work Today...


November 22:
Repairing the Pig Pens



...and continuing work on the Duck Coop

November 23:
Today too....


November 24:
Despite Fallen Papaya tree -Penny's patch is very prolific



.....and a bit more work done on the duck coop

November 27:
Finally Finished!


November 29:
Fallen branch from Lanka tree almost cleared up


....and fed to animals

Heavy Rain in the Afternoon -but drainage seems to be working


November 30:
Heavy Rain again Today


Improvements made to drainage -after flooding in pen


Fallen branch used as composting border for garden tree patch

---
2016
January
February
March
April
May
June
July
August
September
October

---
Trevor Batten
<trevor at tebatt dot net>
Baclayon 2016
home
---