Tropical Heritage Garden Diary:
September 2016: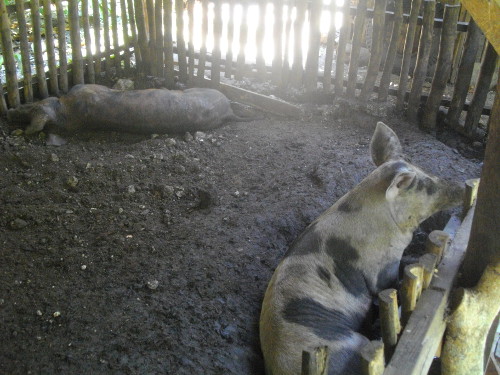 September 01:
Fatima looks after Butlig while Number Three gets help from AI




Butlig, on return, is quite excited

September 02:
The Morning After......


New additions to the hedge around the pig pen


Fragile hedge at back of goat pen given water

Southern Pig Pen Hedge is already growing nicely

September 03:
Southern Garden watered


Blackie and Ihid not happy in new home


September 04:
Northern Garden watered


September 06:
Rain in the Night



A Fresh, Green, Start to the Day

Some New Waterlilies for the Ponds


...and some light rain again in the afternoon

September 07:
Butlig moved to No.One -and Piglets moved to goat pen


Some more light afternoon rain

Frog and Frogspawn in Reservoir

September 08:
....and more rain



In the afternoon, Penny and Alex level the pig pen floors


and move the tarpaulin to the piglet's pen

Later, Butlig is lead off and No.One gets AI too

No.One keeps on eating and Butlig is put in with Brownie

September 09:
A slightly damp, lazy, day



With perhaps a love-triangle developing within the pens



Marang, Pomello and Pandaan Palm seedlings planted

September 10:
Some seedlings planted a few days ago are sprouting -but others have probably been eaten by chickens


Flowering shrub popular with Butterflies

September 11:
Yesterday's seedlings already much bigger -and some new ones are appearing


Three Hens now with Chicks

Destruction by Chickens and Ducks

Guyabana, Marang and Nutmeg seeds planted in Pots

Vegetable Seeds sown under wire mesh to protect them from Chickens

September 12:
Seedlings getting bigger



Area around Duck Pond and Pig Pen tidied up

September 13:
After Rain in the Night, A Green and Sunny Morning


September 14:
More Devastation by Chickens



...but also September Flowers


...and Flowers, but not Fruits, on the Guyabana Tree

September 16:
Rain in the night


Some seeds are sprouting. even despite the chickens, but others are not


Some Flowers are Transplanted


Coconut Patch given tidy Border

September 17:
More protected patches are sprouting -but not all


Fallen Papaya given Support

Cacao Tree fruiting nicely



More Patches given Tidy Borders


September 18:
Pigs and Goats enjoy a Sunday Lunchtime Snack



September 19:
A Rainy start to the Day


Starbuck sold to a Neighbour while we were out Shopping

September 20:
Another Wet Morning


But Sunshine Later

Good Weather for Seedlings


September 22:
Devastation by Chickens again



With Rain in the late Afternoon


...And more Rain at Night

September 26:
Butlig is worryingly sick this morning


Other pigs are OK

Some Seedlings damaged by Chickens seem to be Surviving


Some Others appear to have escaped Attack



Some tree cuttings alone back of goat pen seem to be surviving

Butlig has moved during the morning -but is still very ill
(is it his stomach -or his tumour?)


While we are out shopping, Penny puts up anti-chicken netting

On our return, Butlig seems a bit better


His Tumour seems to be breaking open -is that Good, or Bad?

September 27:
Another Duck killed by Rape?

September 29:
Bitter Gourd flowering and fruiting


Edible Luffa flowering and fruiting

Beans flowering and fruiting

Saluyot (Hemp) flowering and seeding

Talinum flowering

Papaya fruiting

Native Lime fruiting

Banana fruiting

Chesa still prolific
(loved by animals but not many humans)



Passion Fruit flowering

---
2016
January
February
March
April
May
June
July
August

October

---
Trevor Batten
<trevor at tebatt dot net>
Baclayon 2016
home
---